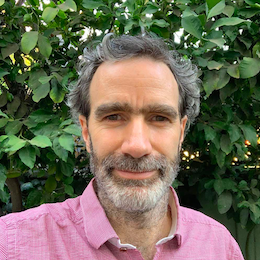 Sebastián Zulueta
Certified Consultant in Sociocracy, Coordinator of the Circle of Happiness in Customs Agency P. Zulueta, President of the Board of Directors of the Institute of Deafness of Chile. I accompany companies, social organizations and schools to generate governance models of distributed power that promotes collective intelligence, effectiveness, transparency and equivalence. +++ Consultor certificado en Sociocracia, Coordinador Círculo de Felicidad Agencia de Aduana P. Zulueta, Presidente del Directorio del Instituto de la Sordera. Acompaño a empresas, organizaciones sociales y colegios a generar modelos de gobernanza de poder repartido que permiten potenciar la inteligencia colectiva, la efectividad, la transparencia y la equivalencia.
My purpose in life is to work for a fairer and more friendly society, seeking each day greater coherence between the values ​​and practices in my life and in the organizations of which I am a part and which I support. In love with Ignacia, father, volunteer, vegetarian and cyclist. Consultant in Sociocracy and Coordinator of the Circle of Happiness of the Patricio Zulueta Customs Agency. I accompany different organizations to generate circular governance models where power is distributed (from the Sociocratic Circular Method), based on the principles of effectiveness, transparency and equivalence. Business Engineer, Master in Sociology. I am president of the board of directors of the Instituto de la Deafness of Chile, member of the Mission Circle of Sociocracy For All, and representative of the families on the board of directors of the Tinkuy Inclusion Corporation. I was executive director of Corporación Nuestra Casa and América Solidaria Internacional, and Director of the UC Service Learning Center. In turn, I actively participated as a student representative, holding the positions of president of the UC Business Administration Student Center (1998), and president of the Student Federation of the Catholic University of Chile – FEUC (1999).
Mi propósito en la vida es trabajar por una sociedad más justa y amable, buscando cada día una mayor coherencia en mi vida y en las organizaciones de las que soy parte y apoyo. Enamorado de Ignacia, padre, voluntario, vegetariano y ciclista. Consultor en Sociocracia y Coordinador del Círculo de Felicidad de la Agencia de Aduana Patricio Zulueta. Acompaño a diferentes organizaciones a generar modelos de gobernanza circular donde se distribuye el poder (desde el modelo circular sociocrático), basándose en los principios de efectividad, transparencia y equivalencia. Ingeniero comercial, magister en sociología. Soy presidente del directorio del Instituto de la Sordera, miembro del Círculo de Misión de Sociocracy For All, y representante de las familias en el directorio de de la Corporación Tinkuy Inclusión. Fui director ejecutivo de la Corporación Nuestra Casa y de América Solidaria Internacional, y Director del Centro de Aprendizaje Servicio UC. A su vez, participé activamente como representante estudiantil, llegando a ocupar los cargos de presidente del Centro de Alumnos de Ingenería Comercial UC (1998), y presidente de la Federación de Estudiantes de la Universidad Católica de Chile – FEUC (1999).