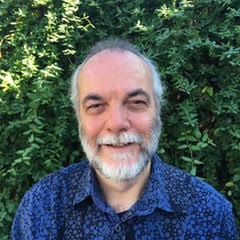 Charlie P. Lenglez
Born in Belgium, I was introduced, at the age of 20, to the Jungian psychology and dreamwork and co-founded in Spain the Los Portales community, along with my "soul family ». Passionate about working with dreams as a tool for personal development and group cohesion, I've been involved in teaching and training for 35 years, specializing in the integration of innovative and alternative learning strategies, that take our differences into account and create a co-learning environment.
I was trained in Sociocracy with John Buck and Gilles Charest, and participated in its dissemination in Spain and the creation of a Spanish office of The Sociocracy Group..
I'm a trainer and consultant in organizations. I am currently a member of the GEN Europe Council where I've been active at the Governance working group for several years.
Through what I learn every day with Los Portales and the networks, I am deeply convinced of our responsibility as "guardians of the Planet" and of the importance of co-creating and co-learning not only among humans, but with all terrestrial and other dimensions. The time we live in is a real challenge, …and we can only make it together.
Nacido en Bélgica, me introduje, a los 20 años, en la psicología junguiana y el trabajo con los sueños y cofundé en España la comunidad de Los Portales, junto con mi ""familia del alma"". Apasionado por el trabajo con los sueños como herramienta para el desarrollo personal y la cohesión del grupo, he estado involucrado en la enseñanza y la formación durante 35 años, especializándome en la integración de estrategias de aprendizaje innovadoras y alternativas, que tienen en cuenta nuestras diferencias y crean un ambiente de co-aprendizaje.
Me formé en Sociocracia con John Buck y Gilles Charest, y participé en su difusión en España y en la creación de una oficina española de The Sociocracy Group.
Soy formador y consultor en organizaciones. Actualmente soy miembro del Consejo de GEN Europa donde he participado activamente en el grupo de trabajo de Gobernanza durante varios años.
A través de lo que aprendo cada día con Los Portales y las redes, estoy profundamente convencida de nuestra responsabilidad como ""guardianes del Planeta"" y de la importancia de co-crear y co-aprender no sólo entre humanos, sino con todas las dimensiones terrestres y otras. El tiempo que vivimos es un verdadero desafío, …y sólo podemos lograrlo juntos.